Kim Jonghwa : That night, I came up with the mechanic of Rooms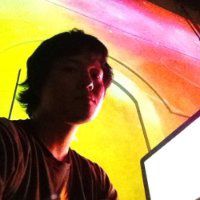 Hello ! This week, I'm proud to announce you we have interviewed Kim Jonghwa, the developer of the brillant game Rooms ! Hardcore Joueur has published a review of this game. If you havn't already read it, you can do it here.
- Hello, Kim Jonghwa ! How are you ?
I'm doing good. How are you?
- Can you introduce you ?
My name is Jonghwa Kim. I just graduated from the M.F.A. program at the Interactive Media & Games program in University of Southern California. Before then, I have been making some games as a small independent studio HandMade Game, while doing my study at SungKyunKwan University in South Korea.

- Handmade Game has developed Rooms, the 2007 IGF student showcase finalist game. What an ansome slicing puzzle games ! Then, Handmade Game has developed the deluxe version, Rooms: the main building, available on Big Fish Games. What's the story of this game ? How have you got idea to create it?
I have been usually getting inspirations from interesting aesthetic. That is, when I see an
interesting visual pattern, animation, or hear music, I imagine an underlying system that would give rise to the aesthetic.
I got an idea of Rooms by watching an animation Uzbudljiva ljubavna priča (1989) aka Exciting Love Story at an animation class in SungKyunKwan University. It is a 5 minute short animation, where a man trapped in a space divided by cartoon frames goes on a search for his lost girlfriend. As you can see, the animation has very similar look with Rooms, or I must say the other way. When I first watched it, the concept of using the cartoon frames as an architectural object, walls and floors, were very interesting. You can even see that each piece of space move like an elevator. That night, I came up with the mechanic of Rooms.

- Rooms is based on a very engaging experience! Can you tell us more about this game ?
In Rooms, you play as a boy, trapped in a mysterious mansion that is full of moving rooms like sliding puzzle. You can move a room that you are in and use various gadgets to make your way to get to the exit. There are 100 levels (in the DS version) divided by 4 themes. The game introduces new gadgets at each theme, gradually adding complexity to the core mechanic of the puzzle.
In Rooms1, there is an adventure counterpart of the game where player finds a hidden puzzle piece like classic point-and-click adventure type game.
There is a big secret in Rooms, but I will tell you at the end of this interview.
- Is it a success ?
Rooms: The Main Building has been sold about 400,000 copies all over the world, mostly DS version in Europe. It was quite a success for a first commercial game by a small indie studio, and it gave me some sustainable income. However, there were so many parties that took some share of it.
It did a fair job in in downloadable desktop games and DS market, but the iOS version, which does not exist any longer, had a huge failure.
Taking the lesson, I've been collaborating with Kuno interactive in Korea, to make a sequel of Rooms optimized for the iOS market, and it will be released very soon.
- We have loved the PC version but Rooms is also available on DS/Wii. Have you got any feedback about gaming experience ?
It got mixed reviews, some positive and some negative. The DS version got a better review than the Wii version because it was optimized to the device better. However, among those feedbacks, there was general consensus that this game is unique but also weird, which I totally agree now.

- Can we hope and wait for Rooms 2 :) ?
As I mentioned above, yes, it is almost done, and it will be published by Com2Us, a mobile game developer/publisher in Korea on iOS and Android market. We polished the mechanic we liked and threw away the 'weird' part, and we dramatically improved the art, storyline and character.
However, the new Rooms game will not be called Rooms, because of possible confusion between The Room in iOS market. It's kind of sad, but people will be able to recognize once they see it.
The new title will be, The Mansion: Puzzle of Rooms.
- Hardcore Joueur share its passion for free online games and reviews its favourite one for the public ! What kind of games do you love (adventure, action, sports...) ?
Regardless of genre, I have always liked so-called indie games, mostly because of their wit and authorship. However, I also like strategy and competitive games, where I can dominate the opponent with my skill, or sometimes the other way. Besides that, I'm playing a lot of mobile games. Candy Crush is my favorite mobile game these days.

- Great ! And what are your free online favourite games ?
When it comes to online games, I like highly skill-based competitive one. The one I'm into these days is League of Legends.

- With Rooms you make us love great immersive experience ! Once we have played to this game, we enjoy it ! Can you recommand us similar games ?
As long as the similarity in the gameplay, I recommend Continuity, an award-winning puzzleplatformer indie game. It has a same concept with Rooms, but they have focused on the action side of the mechanic. It would be interesting to compare the difference.
--> Want to test the game Continuity ? Please go there.

As long as the atmosphere, I would recommend The Room in iOS AppStore.

- Thank you for this interview. We were pleased to talk with you !
Thanks you! Please look forward for the Rooms2, oops, The Mansion: Puzzle of Rooms.
Also, the secret is… that the real model of the Rooms1 character is actually a girl.
Wanna to read my reviews of online games (Mental, Rooms, Immortal Souls Dark Crusade) ? Please click here.