Eli Piilonen, The Company of Myself : "Adding some simple text to your game is a straightforward way to add potential depth to each scene"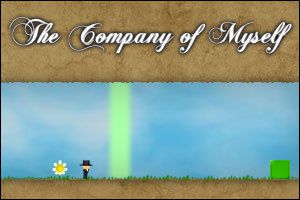 Today, I'm proud to publish an interview about the excellent The Company of Myself game !
Who are you, Eli Piilonen ?
- Hi Eli Piilonen. You are game developer and work in 2d Array, a game development studio based in the US. Could you introduce you to us ?
Hey there! You pretty much summed it up. I've been making games for about thirteen years. 2DArray is a thing that we like to call a game studio, but really it's just me and an audio guy named David Carney working out of our apartments in Nebraska, and sometimes we hire contractors who are better at visual art than we are.
- What kind of games do you create ?
I try to make games that people haven't played before (or else they'd be boring), and I try to make games that make people think about something in a new way (or else they'd be...debatably exploitative). I think these two guiding principles can be applied to any genre - though I've mostly made puzzle and action games so far (no big RPG or RTS or MMO yet). Because of that bit about games people haven't already played, I don't really like to make "gameplay sequels" where you start with the previous game and add on some new stuff - instead I try to design a fresh game system from scratch every time, but then I also have this secret fondness for sharing a single large-scale narrative between all of my games (at least for the past few years).
- And what are your news ?
We've been working with these newfangled VR headsets (particularly the Oculus and Vive), and we're getting ready to launch an Early Access version of a variety pack that aims to test the VR water, so to speak. It's four items: A procedural downhill racing game, a spacejet-horror game in a microscopic setting, an island-puzzler centered around interactions with strange animals, and a trippy official music video for a song by a band called Icky Blossoms. The whole thing is called "Observatory," and we've been working on it for about a year - we're hoping to launch to Early Access in early May, then take about another year to finish out the project with help from the community.
Now, let's talk about The Company of Myself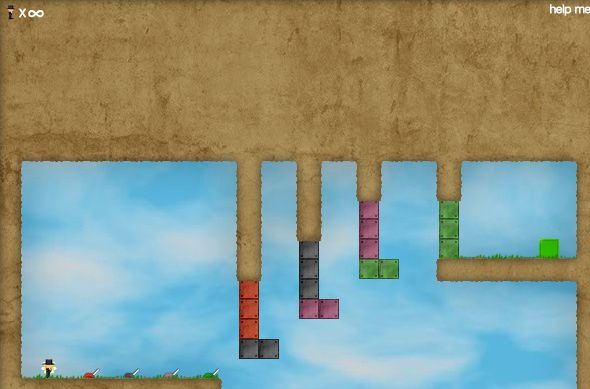 - Good. Now let's talk about the Company of Myself, a game published in 2009. This is a great platform puzzle game, can you introduce it to us ?
So basically, The Company of Myself is the most-played game I've ever released - it's original intent was to be half puzzle game and half character study. It's a platformer where you do some actions, hit a button to reset the level, and do it again - but each time, your old replays are accumulating and all playing back at once, and you can interact with them in certain ways to kind of collaborate with yourself (as a simple example, you can use one replay to hit a switch, which lets the next guy through a door). I had seen another Flash game called Chronotron (Kongregate) with the "collaborate with your clones" mechanic, but the puzzle design in the game frustrated me and it felt like it was missing out on some of the potential of the system.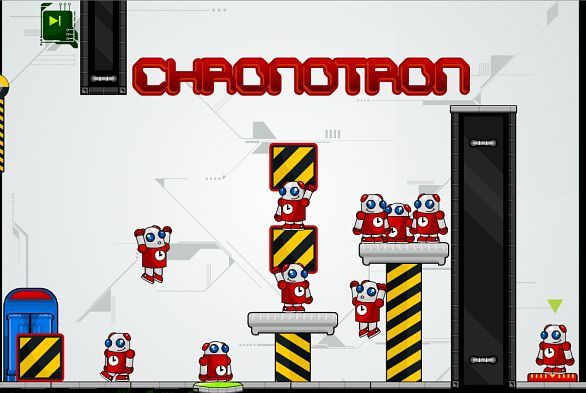 At the same time, I was really into Braid (which happens to have the same "never re-use the core of a puzzle" attitude that was giving me problems in Chronotron), so Company's gameplay is ultimately some combination of those two games.
- You control Jack, a simple man trying to reach the exit level by level. At each level, we can read a sentance. We have seen this option in several platform puzzle games such as Noitcelfer. What does it bring to illustrate each level with a sentance ?
Adding some simple text to your game is a straightforward way to add potential depth to each scene. Without that, you're only communicating with the game itself - which is a good communication tool, but when you combine that with words (a different-but-also-good communication tool), it seems to multiply your potential for an emotional response (though I don't want to imply that it guarantees anything - a great game with a terrible story is arguably worse than the same game with no story). A game's action might remind you of something in your life, and a storyline might remind you of something in your life, but if they're both going at the same time, the story might remind you of your life AND of the game you're playing at the same time, which I think helps to bring about those light-headed revelatory moments that art can give to people. There are lots of different opinions about this stuff, though - some people believe that gameplay and narrative should never mix, because they can dilute each other. I think those people are just being old fogeys, but I'm also glad that they're around.
- Yes but in some other games, the sentance just give clues to understand how win in the level. Here, the more we continue to play, the more we know about his life. Why have you decided to make us interest to his past ?
I didn't fully understand it at the time, but I was making games to tell people things about myself that I wasn't comfortable talking about in real life. I'm not as whacked-out as the characters in my games, but whenever I write about a person with a problem, it's some amplified or approximated version of a problem I've encountered in my life. While I do believe that ranting can be good for your soul, the intent here isn't just to talk about myself - the real goal is to find memories that would sound familiar to other people. This is what art is all about, to me: It shows us that even though we're all special snowflakes, and even though nobody feels like they "fit in" all the time, we do still have a bunch of weird stuff in common, and that's kind of nice. Art points out those things, and it makes those things the central focus in the room. Hey look, we both feel calm and relaxed when we look at these particular colors and shapes on the wall - that's pretty odd! I think this is an important key in helping people to get along with each other on a large scale.
- And why not having written a short novel instead of creating a game ?
I'm primarily interested in designing games, so that came first for me - but I do also enjoy storytelling, and I think they share some similar goals, so that element has worked its way in over time. I still wouldn't want to write a standalone story as a replacement for working on game stuff, but coincidentally, that VR pack, Observatory, is going to contain a supplemental short story as an eBook for people who are interested in story content. We're also doing the normal in-game story hints, and one of the four items in the pack is going to contain its own little story arc during its short campaign mode, but if you don't read the eBook, you won't know how the four items in the pack relate to each other!
- Combining a real story and gameplay fits very very well ! So now let's talk about the gameplay. To win each level, Jack, the hero, has to create clones of himself. Clones will help them solve problems. The most funny is that why Jack isn't able to walk into certain coloured areas, clones are in the same situation ! What can you tell us about clones ? How do they help Jack to reach the exit ?
That cloning mechanic is way smart, and whoever thought of it first deserves some kudos (but unfortunately I don't know who they are). I already mentioned above that a straightforward use of the cloning mechanic is to have one guy push a switch that opens a door for somebody else - but the game would get boring if this was all it was. One small addition I brought to it is that the guys are allowed to stand on each other's heads - so if a ledge is too tall to jump up, you can put a guy at the base and the next guy can use him as a stepping stone. It's a little thing, but it becomes relevant to the rest of the system in some cool and unexpected ways. From there, we start messing with additional rules that interact with the cloning mechanic: These forcefields don't allow clones through, but these other forcefields ONLY allow clones through. Each puzzle in the game is intended to demonstrate some particularly interesting result of these rules interacting with each other.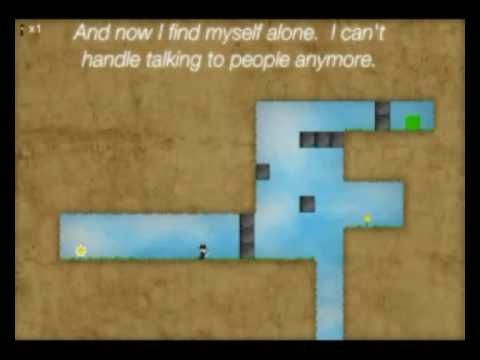 - Jack will meet Kathreen. Who is she and how will they work together ?
So, one of the important things about this game's story is that it's intentionally vague. It's never made specifically clear if Jack and Kathryn are friends or romantic partners (though I assume most people will assume it's a romantic thing) - but in either case, the narrative goes that they got along really well. When she's around, Jack doesn't use his cloning mechanic (because he has outside support at that point and doesn't need to do everything himself). This section of the game acts as a flashback in the middle of the story - we get introduced to Jack and his all-in-one style, then we see how things used to be in some kind of golden age, then we come back to the present and reflect.
- Arf ! The Company of Myself is not simple. Can you give us some advices to win ?
I honestly forget how to give general advice for this game. If you were playing it in front of me, I could give you some tips, but in general, I dunno - think harder!
- How have you had the idea of create the game ? What are your artistical sources ?
The gameplay inspiration is mentioned above (it's a combination of stuff from Braid and Chronotron). There's some influence from Shadow of the Colossus in the use of vagueness, and from the movie Se7en in the way that it's largely an avenue to discuss some negative qualities of people.
My favorite source of inspiration is when I feel something in some arbitrary situation and get a sense that it's something that a lot of other people have encountered before. One of the big ones in Company is "the moment when you're positive that you messed up something important, but you don't understand how." That kind of ambiguity cuts deep for me, and I think a lot of people can recognize it, too.
Eli, please suggest us new games to play !
- And now it's time for you to suggest new games to play with ! What kind of games do you play ?
I've been really into "builder games" lately - Stardew Valley is a great farming/ranching game made by one dude over four years (which everybody loves right now), and Factorio has been making my brain explode.
Also I finally got into Kerbal Space Program and landed a dude on the moon, and that is a seriously radical, crazy game, in a mad-scientist kind of way. Shadow of Mordor is way fun, too - I not really into high-fantasy, but I totally adore Monolith Productions and they combined some great systems to make it.
- For those one who loves platform games in which you create clones, work with them, sometimes kill them, can you suggest some games ?
Uhhh I know there are a few other than Company and Chronotron, but I haven't played them, so I can't comment on whether or not they're any good.
- If you loves puzzle games with litterary story, what games should we test according to you ?
I already mentioned Jon Blow's Braid, which takes a fascinating narrative turn at the end, but his newer game, The Witness, is also stellar (though it seems primarily focused on a general discussion rather than a linear story).
I thoroughly enjoyed the story in the first season of Telltale's The Walking Dead (haven't tried the second yet), though it's more of a modernized point-and-click adventure than a puzzle game. Also I'm going to go ahead and mention Shadow of the Colossus again, because that counts as a puzzle game to me (some kind of action-puzzler combo), and it has my favorite in-game narrative of all time.
- Thank you for this interview ! That was very interesting !
Thanks for having me on!
Un jeu de plateforme original ! Dupliquez-vous et grâce à vos clônes, atteignez la sortie de chaque niveau !