Anton Fedoruk : Amuse Park, "It's like a Tower Defense game"

- Hi Anton Fedoruk ! You are the Founder of WarSpark studio, an ukrainian game development studio. Could you introduce it to us ?
Hi Hardcore Joueur, we were in the business of making flash games since 2008. We made many small games including Shopping Street and Amuse Park which were sold to other portals. In September 2010 we launched our own game called Sieger which was a physics based puzzler and it became a hit reaching around 60 million players around the world. The same year we started working under an iOS version, called Siege Hero.
--> Want to test Shopping Street ? Please click here !
- Nice ! WarSpark has developed Siege Hero, can you introduce this game to us ? The goal, the news and some feedbacks :)
Yeah, this game was based on Sieger. We experimented a lot on different things in the gameplay tried to make it as simple as possible to match the quality of iOS games. After flash games business iOS was a real level up for us :) The goal of the game is the same as in Sieger, you have a limited number of shots and you have to destroy a castle launching the projectiles toward it. The game is played from the first person view which made the game stand out among other physics games at that time, including overly-popular Angry Birds.
In late 2013 we made a sequel called Siege Hero Wizards where we improved almost everything comparing to the initial version. So far the feedback from players is very positive. It has 5 stars on iOS and 4.2 on Android.
--> Want to test Siege Hero Wizards ? Please click here !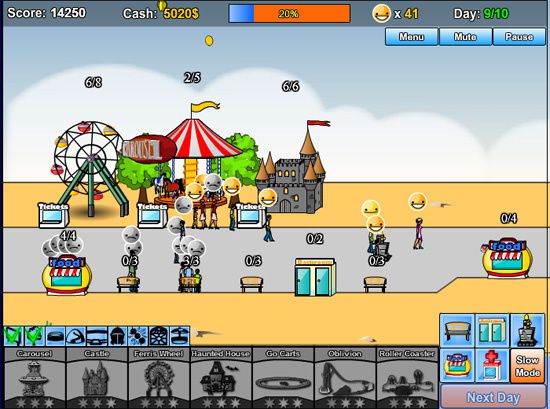 - On your previous life, you have been CEO of SteelPanda studio. Can we talk about a game you've developed in 2010 ? We mean : Amuse Park, a funny strategy game in which we exploit some parks ! Can you introduce this game to us ? What do we have to do ?
SteelPanda was my attempt to launch a free games portal. At the time the market was very crowded already and if you wanted to make a successful games portal you had to invest a lot of time and money into it. But when Sieger became a hit we turned our attention to iOS market and never went back.
Amuse Park at the other hand was one of our funny little projects before WarSpark. It wasn't the first game in the genre. We made a few others for flonga.com and games2girls.com portals owner. These games were Shopping Street, Diner City and Amuse Park.
Initial Shopping Street was a lot more popular than Amuse Park but both games are very similar. I guess we just balanced Shopping Street better :). It's like a Tower Defense game, but instead of making turrets that shoot enemies the goal is to build your own theme park or a shopping street. Each day customers come to your street or a park and buy things in your shops or attend attractions. The attractions must be upgraded because customers come with more and more money in their pockets. When too many customers come they create queues or just skip your attraction if the queue is too big. You can also slow them down by building additional things like benches, newspaper stands and mini kiosks.
Players liked these games because it was a nice twist to TD games I think.
--> Want to test Diner City ? Please click here !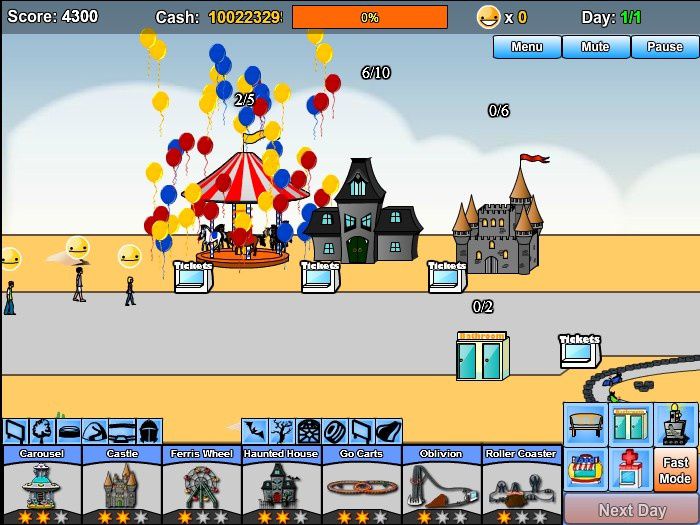 - Hardcore joueur publish reviews about its favourite games. In France, very few websites reviews online free games. What do you think about this kind of review ?
The web games are still very popular in spite of growing mobile and social games sector. And I think they aren't going to go anywhere in near future because there are a lot of people that want to spend a few minutes to play some funny little game on their laptop or desktop computer without clicking through lots of social mechanics or registration pages.
- Ok, yet let's talk about your gaming universe ! What are your favourite genre of online free games ? Strategy, puzzle,action,rpg ?
I mostly like puzzle and strategy games. But sometimes a developer makes such a powerful game that you can't stop playing it, like Learn to fly and Flight.
--> Want to test Learn to fly ? Please click here !
--> Want to test Flight ? Please click here !
- For Hardcore Joueur's public, can you recommand some of your favourite games ?
My favorite ones are Kingdom Rush, Learn to fly, Flight and Ultimate War.
--> Want to test Ultimate War ? Please click here !
- For those one who love to play strategy games, exploit farms, park, hospital or what else... what similars games can you recommand to them ?
Besides Shopping Street, I can recommend Corporation Inc. made by Armor Games and Papa's series of games, like recent Papa's Cupcakeria.
--> Want to test Corporation Inc ? Please click here !
--> Want to test Papa's series of games ? Please click here !
- Thank you for this itw !